Frequently Asked Questions on M4VGear for Mac
Q1. What's the difference between M4VGear and other DRM removal tools?
M4VGear is the fastest DRM remover on Mac which can remove DRM from your iTunes movie and TV show with 20X faster speed than other DRM removal programs do. It can convert all M4V video files including your iTunes purchases or rentals to many unprotected video and audio formats with perfect output quality. What's more, both Mac and Windows version of the program can retain 5.1 audio when removing DRM from iTunes videos.
Q2. What can I do under the trial version?
Please note that the trial version of M4VGear has 1 minute conversion limit, which means you can convert the first minute of the video before you decide to purchase it. After you have purchased the full version, you will receive the register name and code to unlock the program and turn the trial version to full version.
Q3. I have received the code. How to register M4VGear?
1: Run M4VGear and click the menu from M4VGear, then select "Registration" to register your program.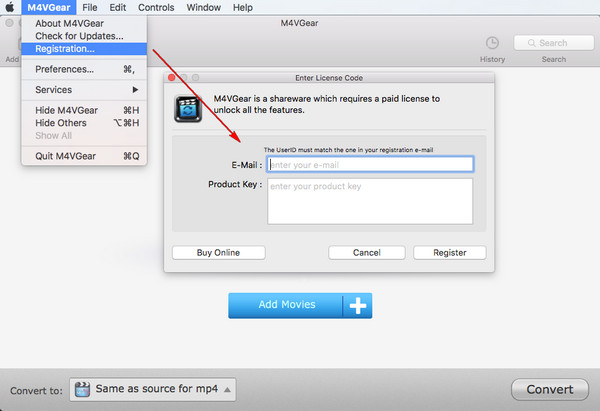 2: Fill the blanks with your E-Mail and Registration Code you have received from the email. Then click OK.
Important Notes: starting from Version 4.2.3, new users who purchased M4VGear for Mac needs to register the program with your Email address and registration code, while old users can still successfully register M4VGear for Mac with registration name and registration code.
Q4. What kind of video does M4VGear support? What output format can it export?
M4VGear supports converting iTunes videos in M4V format including iTunes purchased movies, TV shows, music videos, iTunes Extras or rented movies. The program removes the DRM and exports the lossless high quality videos in various video and audio formats such as MP4, MOV, MP3, and AAC, and so on. Besides, M4VGear can also output iTunes videos to many mobile devices like iPhone, Apple TV 4, Google Nexus series, Samsung Galaxy S9, PS4, Xbox One, etc.
Q5. It said M4VGear is from unidentified developer? How can I install program?
Please refer to the guide about the error m4vgear cannot be opened because it is from an unidentified developer for installing M4VGear on Mountain Lion or Mavericks.
Q6. Solution to Error Code 1000, 1002, 1003, 1004, and 1006
Please refer to Solution to Error Code 1000, 1002, 1003,1004, and 1006 to solve the problem when error codes appears during conversion.
Q7. Solution to M4VGear can not find iTunes Music Library Location after updating iTunes to V12.2
Please refer to Solution to M4VGear fails to read iTunes Music Library after updating iTunes to V12.2 when you receive the error "Can not find iTunes Music Library location" or "File C:\Users\xxx\Music\iTunes\iTunes Music Library.xml not exist".
Q8. M4VGear for Mac doesn't support macOS High Sierra 10.13 and above, what should I do?
We are very sorry that currently M4VGear for Mac isn't compatible with the latest macOS High Sierra 10.13 or above due to technical issues. In order to help you convert iTunes videos successfully, we suggest you'd better to try our Windows version of M4VGear.
Suggestions:
1: If you also have a Windows computer, now you can temporarily use the Windows version with your Mac license until the Mac version is updated to fully support High Sierra.
2: If you only have a Mac computer, you can also choose to install and run OS X 10.12 or 10.11 on an external hard drive or downgrade your macOS to 10.12 Sierra.
Q9. I encounter some problem that I can't find in FAQ. How can I get technical support?
Please contact us at support@m4vgear.com and provide us with detailed info like Mac OS, iTunes version, and program log files for analysis.