[1]Install the M4VGear for Windows on your PC. Click the setting menu icon on the upper right and click Register, there will be a registration popup dialog.
[2]You may input the Registration information in the registration pop-up dialog manually.
Note: The registration code is case sensitive, please do not add blank at the beginning or the end of the word. We suggest that you should copy and paste the Email address and Registration Code into the registration popup dialog.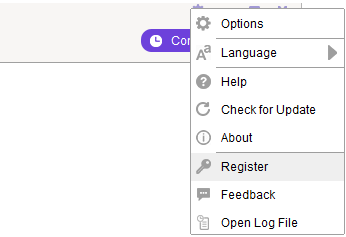 There are two reasons for invalid code:
[1]First, the registration code doesn't match the program. Please make sure you have downloaded the right program.
[2]Second, blank spaces are accidentally added while filling in the registration information. Please mind that license information is case-sensitive. Do not enter any extra blank space to the E-mail address or license code.
[3]If you're sure that you are running the right program and follow the direction but still get the error message, please contact our support team via support@m4vgear.com for help.
Important Notes: For old users who purchased M4VGear Converter for Windows before Sep. 22nd, 2016, they should register the program with registration name and registration code.
It's the limitation of trial version. You can buy full version to unlock the one-minute conversion limitation.
M4VGear Converter for Windows can convert any videos that can be played in iTunes, including iTunes purchased movies, iTunes Rentals, TV Shows and Music videos.
M4VGear can help you convert iTunes M4V videos(both SD and HD) to unprotected video and audio formats like MP4, M4V, MOV and MP3,etc. It also supports outputting iTunes videos to iOS devices (like iPhone 8 (Plus), iPhones X, iPhone XS Max, iPad Pro...), Android devices (like Samsung Galaxy series, Google Nexus series...), TV Console and Game Console, etc.
There are many reasons to cause iTunes to crash. The most common one is that iTunes may be also used by other programs besides the M4VGear, or you operated the iTunes during conversion. So if you met this problem, please firstly close those programs which are launched in background.
The log file is the diary of the conversion process which records the progress of each conversion.
Users can find the log files (including itunes.log and log.txt) of M4VGear by simply clicking on "Locate Log File" in the upper right menu.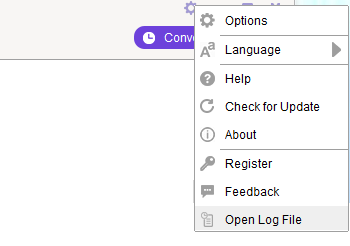 Currently M4VGear is not compatible with the latest (Windows 10 Store) version of iTunes.
9. How to fix the issue that M4VGear fails to read iTunes movies?
Please tick "Share iTunes Library XML with other applications" in your iTunes preferences. For more details, please refer to the step-by-step tutorial.
10. The program only converted the audio but no video, what happened?
Important Notice: We are sorry to tell you that M4VGear for Windows doesn't work properly with iTunes 12.10 or later versions yet. Before the final solution comes out, if you want to use the program successfully, we suggest you download iTunes V12.9 to convert your movies.
Please follow us on Facebook for the latest notification.
Note: Please re-download the movies with the old iTunes since the new version of iTunes uses a different type of encryption technology. Meanwhile, remember to de-authorize your iTunes and re-authorize it all over.
Please contact our support team via support@m4vgear.com, tell us which problem are you encountering and provide us with detailed info like Windows OS, iTunes version, and log files for analysis.
a. Which Windows OS are you using? 32 bits or 64 bits? And your iTunes version?
b. Is the file you converting a purchased movie? Or a rental one? (If rental, please make sure it's in valid period and hasn't expired.)
c. Is it a HD or SD movie? Please provide us the movie name.
d. Does the problem happen to certain movie or to all the movies?
e. Which output profile did you choose? Please try other output profile (eg: Lossless MP4) and see if problem persists.
f. Launching the program, click menu bar "Locate log file", and then send us two log files named as itunes.log and log.txt in the popup box.