Frequently Asked Questions on M4VGear for Windows
Q1. How to register M4VGear for Windows with registration code?
Install the M4VGear for Windows on your PC. Then launch the program, click the menu icon > register, there will be a registration popup dialog. You may input your Email address and Registration Key manually. The license information is case sensitive, so please do not add blank at the beginning or the end of the word. We suggest that you should copy and paste the Email address and Registration Code into the registration popup dialog.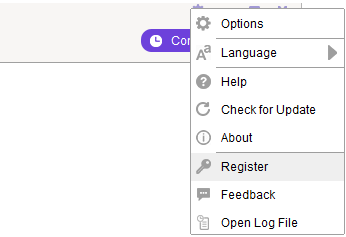 Important Notes: starting from Version 5.2.8, new users who purchased M4VGear for Windows needs to register the program with your Email address and registration code, while old users can still successfully register M4VGear for Windows with registration name and registration code.
Q2. What can I do if the program shows "Registration Code Invalid"?
Don't worry. Please check whether is there any special characters in the Email address you used. Because M4VGear only recognizes English characters. If you are in this situation, please contact us via support@m4vgear.com to ask for a new code.
Q3. What should I do if iTunes crashes?
There are many reasons to cause iTunes to crash. The most common one is that iTunes may be also used by other programs besides the M4VGear, or you operated the iTunes during conversion. So if you met this problem, please firstly close those programs which are launched in background.
Q4. How to find the log file of M4VGear for Windows to send to Tech Support?
The log file is the diary of the conversion process which records the progress of each conversion.
Users can find the log file (the file named iTunes.log) of M4VGear by simply clicking on "Locate Log File" in the upper right menu.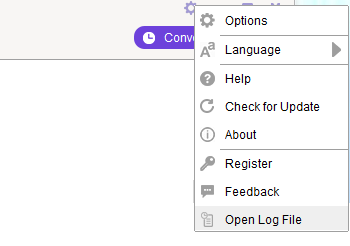 Q5. Does M4VGear support iTunes downloaded from Windows 10 Store?
Currently the latest version of M4VGear is fully compatible with the Windows 10 Store version of iTunes. If M4VGear fails to recognize your iTunes, please update the program to fix the issue.
Q6. How to fix the issue that M4VGear fails to read iTunes movies?
Please tick "Share iTunes Library XML with other applications" in your iTunes preferences. For more details, please refer to the step-by-step tutorial.