Translate M4VGear to Your Own Language
M4VGear DRM Media Converter helps you remove DRM from iTunes Movies, TV Shows and Music Videos then export in unprotected MP4 video with lossless quality. Now, M4VGear programs support 13 languages, including Danish, Dutch, English, French, German, Italian, Japanese, Polish, Portuguese, Spanish, Simplified Chinese, Traditional Chinese and Turkish. However, there is still a great demand for the language versions below:
Afrikaans, Albanian, Amharic, Asturian, Arabic, Azerbaijani, Bengali, Bosnian, Brazilian Portuguese, Bulgarian, Czech, Croatian, Estonian, Filipino, Finnish, Georgian, Greek, Hebrew, Indonesian, Irish Gaelic, Korean, Malay, Norwegian, Persian, Punjabi, Romanian, Russian, Sabah, Serbian, Serbian Latin, Slovenian, Swedish, Thai, Ukrainian, Vietnamese.
If your language is in the list above, please join our effort to perfect DRM Media Converter by translating it into your own native language or into any other language that you are specialized in. Software translation doesn't require any technical knowledge. In fact, it is quite simple and anyone who has a text editing tool like Notepad++ can get it done easily.
What You Will Receive as a Reward?
All volunteers who make a contribution to the translation of M4VGear will be acknowledged on our website, so that users all over the world who use this program can thank you for your contribution.
For translating M4VGear you will receive:
One Free License of M4VGear that you translated;
The chance to enjoy any new version of our product before it is publicly released;
VIP customer care;
VIP discount for any of your friends and family when they are willing to purchase M4VGear.
How to Start Translating M4VGear to Your Native Language?
If you are interested in translating M4VGear strings into your native language, you may follow the following instructions.
Step 1: Download and install free trial version of M4VGear program through Download Center.
Step 2: Text Editor and Text Encoding: we recommend using NotePad++ for editing the strings, which is a free editor that can be downloaded from https://notepad-plus-plus.org/.
Important Notice: After you have opened a text file with NotePad++, you must select "Encoding" - "Encode in UTF-8" from the menu. (See below)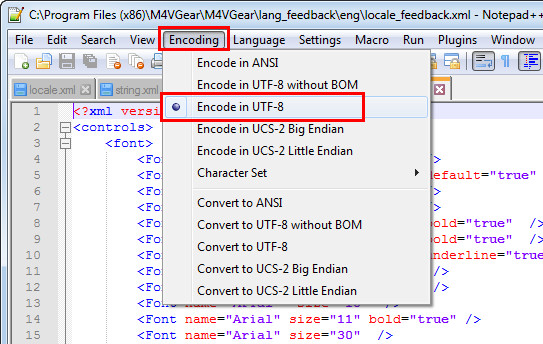 Step 3: Find the latest language package:
For Windows users: Please right-click on M4VGear program and select "Properties", then select "Open File Location" to open the installation package. You'll need to help us translate or update four strings under "lang_feedback" and "language" folder according to the English version, including local.xml, string.xml, locale_feedback and string_feedback.
For Mac user: Go to an M4VGear App in Finder, right-click on M4VGear and choose Show Package Contents to find the latest language package under Contents/Resources/en.lproj. You'll need to translate all the strings under en.lproj folder into your native language.
Step 4: Edit the XML files with Notepad++.
For most .xml files, please translate the words text="xxx", string="xxx" and tooltip="xxx".
For example:
<control name="ID_MENUELEMENT_MAIN_UPGRADE" text="Check for Update" />
<control name="ID_LABEL_THANK" value="text="Thank you for contacting" />
<data id="38" string="Edit Movie" />
<control name="ID_OPTION_HIDE_CONVERTED" text="Hide Converted" tooltip="Hide Converted files" />
Step 5: Once finished, add your own translations into the original language package folder and launch M4VGear program for checking.
Step 6: When translation is completed, you can email us the documents to our support email address: support@m4vgear.com. We will check and update M4VGear program with the new strings in the next version.
M4VGear Translator Acknowledgement
The following translators/developers had contributed in translating the M4VGear. We hereby thank them for their contributions.
English version, up to date, by M4VGear Inc.
German version, up to date, by Dora Tsui.
French version, up to date, by April Zhong.
Japanese version, up to date, by Tilly Zheng.
Spanish version, up to date, by Isabel Chang.
Danish version, up to date, by Claus Sternberg.
Italian version, up to date, by Roberto Boriotti.
Dutch version, up to date, by Robert Jan Van Dam.
Polish version, up to date, by Michał Jurewicz.
Turkish version, up to date, by Burak Yavuz.
If you have any question about the translation project, please don't hesitate to contact us at support@m4vgear.com.