8 Reasons You Should upgrade to Windows 10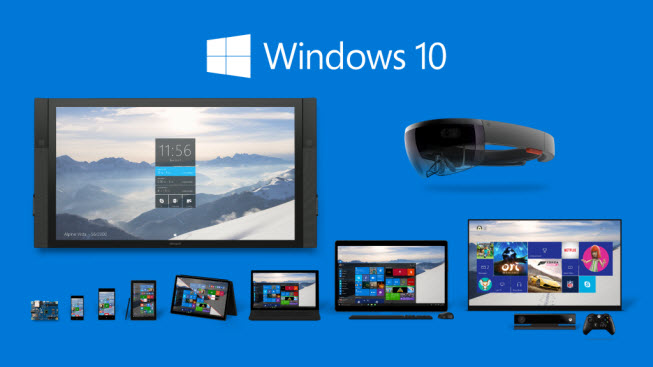 Since its release, Windows 10 has triggered waves of adulation, scorn, and uncertainty. You've seen some of its best new features, even heard what it's like to use every day. But you might be still wondering if you should upgrade. Should you get it now, or wait? Will you be forced to update at Microsoft's pace? Here we collected 8 compelling reasons for Windows 7 and Windows 8.1 users to make the jump to Windows 10:
Windows 10 is free!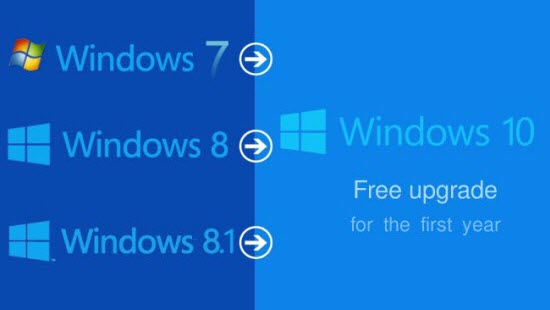 When you upgrade your PC to Windows 10 from Windows 7 or 8.1, your license will be tied to the hardware upgrade, not to the Microsoft account. Microsoft has provided a quick and easy way for users to upgrade from Windows 10 Home to Pro by simply using the generic product key that Microsoft Inc. has provided.
So what is the product key and how does it work? Here are the steps:
1. Go to 'Change Product Key' (easily found by typing this into Cortana);
2. Enter the 'free' Microsoft key: VK7JG-NPHTM-C97JM-9MPGT-3V66T
Windows 10 works across multiple devices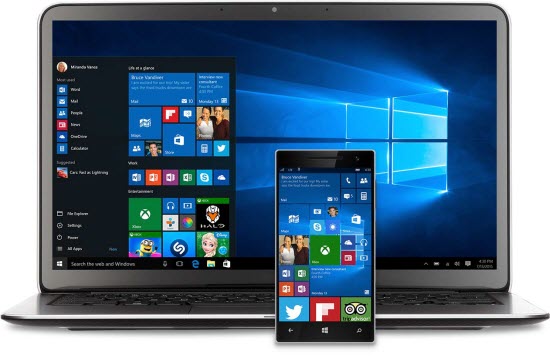 Windows 10 isn't just an operating system for PCs — it's available on smartphones, PCs, laptop and tablets too. All you need to do is plug a Windows 10 smartphone into a desktop monitor, keyboard and mouse using the Display Dock and Windows 10 will reconfigure itself automatically to work just like the desktop version.
In order to ensure Windows 10 Mobile is fully ready for mass usage, Microsoft has delayed the rollout of Windows 10 onto Windows Phone handsets till early 2016.
Handy new features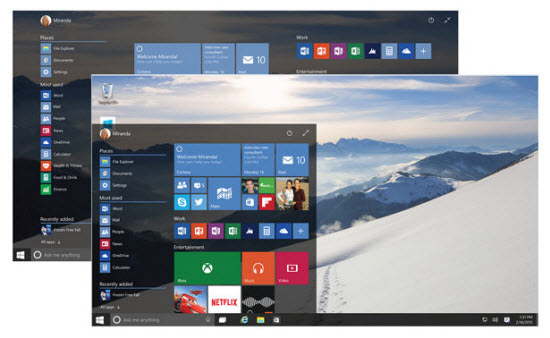 Away from the user interface changes, which are designed to make Windows 10 work well with the mouse and keyboard while still being fairly easy to use on a tablet, many of the improvements build on the developments in Windows 7 and Windows 8.1. And the shift to Windows as a Service, where you keep getting new features without getting a new version of Windows, means that these major updates from one release of Windows to the next, might become a thing of the past.
Windows 10 is great for gaming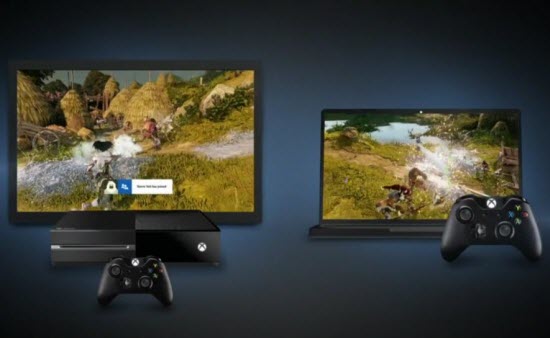 Gamers will take heart that Microsoft is building in features to enhance the experience in Windows 10. These include the ability to stream games from your Xbox One to your PC (great if someone else is watching the television), a new game play recording capability called PC Game DVR, and of course the latest version of DirectX 12 which is already garnering praise for its performance improvements on graphics cards and CPUs.
Cortana is great!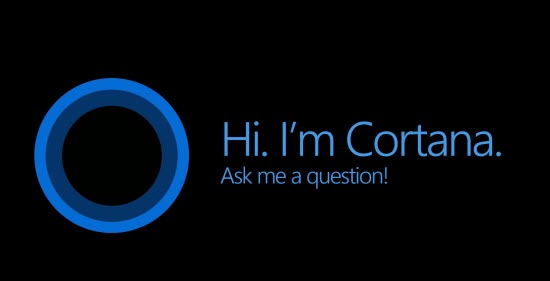 Cortana, a voice-enabled personal assistant that does more than just answer questions, is the star of the show for Windows 10. Tied in closely with the Bing search and notifications features of the new OS, you'll be able to type or talk to find things on your PC, manage your calendar, track packages, find files, chat with you, and tell jokes. The more you use Cortana, the more personalized your experience will be.
OneDrive regression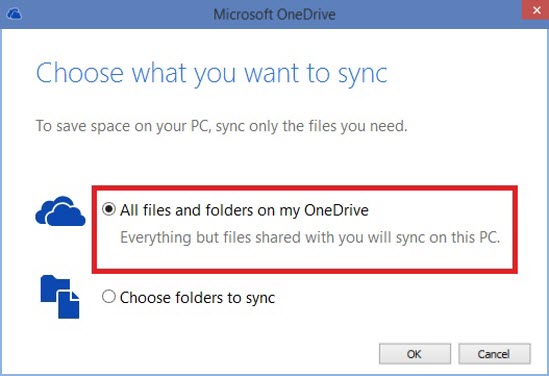 This concern applies only if you use OneDrive in Windows 8.1, and you put a lot of stuff in OneDrive. For those of you using OneDrive in Windows 7 (and 8), there's no change in behavior with Windows 10. But if you're accustomed to seeing all of your OneDrive files in Windows 8.1's File Explorer, you're going to be in for a bit of a shock. Windows 10 makes you choose which OneDrive folders you want to be able to see in File Explorer. Once you've made that choice, the other folders aren't accessible in File Explorer — or just about anywhere else in Windows 10, including, say, the Word File Open dialog. The only way to see what files you have in OneDrive is by venturing to the OneDrive website.
Windows 10 is more secure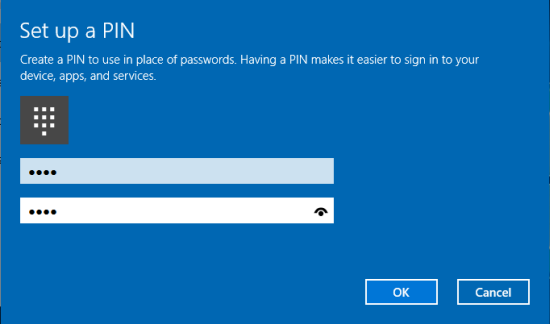 Microsoft has introduced a new PIN login system which means you can protect your Microsoft account with a long and very secure password, but still sign in with a simple short code that will only work on your PC. Once one of your Windows 10 PCs is set up the way you like, your settings and saved passwords can also be synced automatically to any other Windows 10 PCs you might use.
Besides, there are plenty of security improvements, from the Windows Hello system that can log you in with your face or iris as well as your fingerprint, through to two-factor authentication, containers to protect business data, and more ways of using Hyper-V to protect your information. The performance improvements continue, and the new way of installing the OS is faster and more likely to be able to keep your files and software. Windows 10 is even better at cleaning up after installs and updates so it leaves more disk space free.
Windows 10 is faster
Windows 10 has a host of performance improvements that make your PC better in many ways. It's more efficient, which means laptop batteries will last that little bit longer when they're unplugged. It's also faster at waking up from sleep mode so there's less waiting around for your PC to be ready to use.
Tips: How to Strip DRM from iTunes Movies on Windows 10?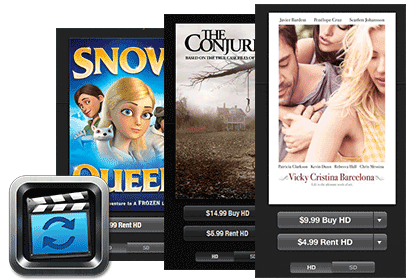 For those unfamiliar with DRM, in brief, it's code added to digital files that restricts people from copying and freely utilizing a digital file across multiple devices. In the case of videos purchased from the iTunes Store, DRM limits playback to the iTunes app in OS X and Windows (Windows 10 Included), Apple iDevices, and the Apple TV. If you try to play iTunes videos files on Windows 10, you'll be greeted only with a blank screen or a "Cannot Play File" error. To get rid of this trouble, we recommend that you can try the third party software-- M4VGear DRM Media Converter.
Download M4VGear for a try:

>> Download Free Version of M4VGear for Windows Here <<

>> Download Free Version of M4VGear for Mac Here <<
M4VGear DRM Media Converter can remove DRM from iTunes rentals and purchases at 20X faster speed with subtitles and 5.1 audio tracks kept while converting these files to multiple popular formats, like MP4, MOV, MP3, etc. The trial version of M4VGear allows 1 minute free conversion. Now, get the full version of M4VGear at $44.95 ($49.95) on M4VGear Store and enjoy life-time free updates and free tech supports.