How to Transfer iTunes purchased Frozen to Android
Frozen is a Disney movie that prevailed the world in 2013 and won many world awards including Academy Award for Best Animated Feature as expected. Both the fabulous animated effect and resonating story made Frozen accepted by the whole world with a box office of over 1.2 billion. And now you can pay $19.99 in iTunes to watch this movie. (Big Hero 6, Disney's 2014 amzing movie, may be better than Frozen.)
Brief introduction of the movie: A fearless princess Anna who sets off on an epic journey alongside a rugged mountain man, his loyal pet reindeer, and a hapless snowman to find her estranged sister Elsa, whose icy powers have inadvertently trapped the kingdom in eternal winter.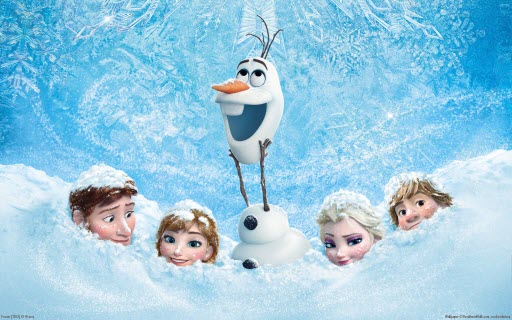 You have purchased movie Frozen from iTunes but find you have only Android devices like Kindle Fire, Samsung Tablet to take the movie with you so that you can watch it during a rest from work or waiting time for bus or train. Distressed, you think you have to spare about two hours in the evening or the weekend to watch it. M4VGear iTunes to Android Transfer for Windows can get you out of this plight and help transfer and play iTunes purchased Frozen on Android devices.
Key features of Windows M4VGear iTunes to Android Transfer
Remove DRM of iTunes purchased and rentals at Fast Speed
Ouput iTunes M4V movies to any Android or Windows 8 mobile devices like Samsung Galaxy Phones/Tabs, HTC, Kindle Fire, PSP, Lumia and more.
Extract certain chapters of iTunes M4V videos
Tutorial 1: How to convert iTunes purchased Frozen to MP4?
Before Converting:
1. Windows 10, Windows 7, Windows 8, Windows XP or Windows Vista installed;
2. iTunes 11 or later installed. (Latest version of iTunes is recommended)
Converting Procedure:
Step 1: Add movie Frozen from iTunes library to M4VGear iTunes to Android Transfer for Windows

Step 2: Choose Same as source for MP4 as output format and Start converting Frozen to MP4 format

Step 3: Transfer Movie Frozen of MP4 format to Android devices
Tutorial 2: How to extract songs from movie Frozen
Several songs of Movie Frozen:
Let it go
Do you want to build a snowman
For the first time in forever
Love is an open door
....
Extracting songs from Frozen:
Step 1: Find the start and end time of the song in the movie Frozen
Step 2: Add movie Frozen from iTunes library to M4VGear iTunes to Android Transfer for Windows
Step 3: Clip Video Time according to the time of the song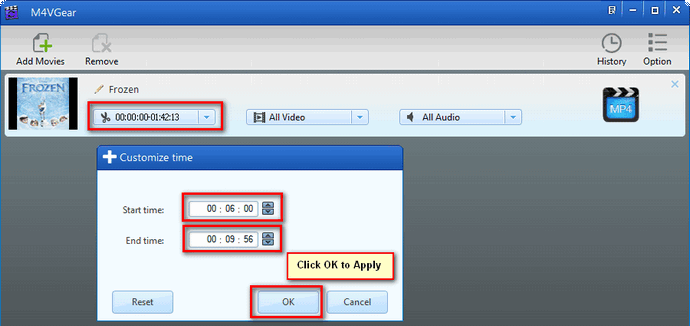 Step 4: Choose Customized MP3/AAC/WMA as output format

Step 5: Start converting to extract the song from Frozen