How to Import iTunes Video Clip to iMovie?
"I was working on a project on my Air when on vacation and want to add a video clip from iTunes to iMovie. I have tried that but the project is always greyed out when I try to import it. Perhaps I'm missing something simple as I haven't used iMovie much."
It's very easy to import some plain video clips to iMovie for creating a professional looking effect for your iMovie project, but you'll find it's impossible to directly import any iTunes video when you try to add a video from iTunes. Sure, you may use a capturing screen tool to record an iTunes video, but it would sacrifice the quality of the iTunes video. Don't worry, we'll explain here how to import iTunes video clip to iMovie without lossing video quality .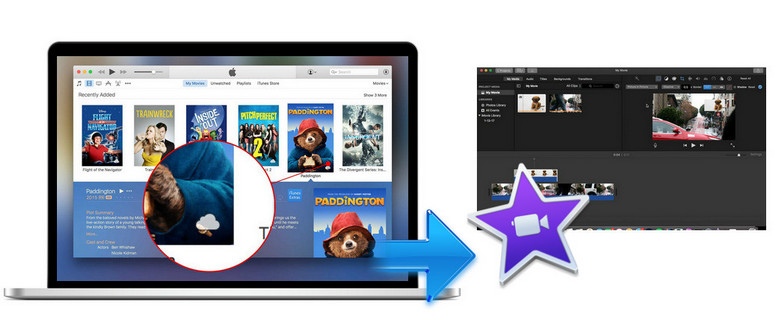 What is iMovie?
iMovie is an amazing video editing program that comes as part of iworks on all Mac computers and iPads. This program includes features such as: changing the speed of clips, adding text to clips, visual effects, music, and voice overs. Besides that, Apple iMovie has added support for 4K video, and more sharing options. And it still maintains some of the best storyboard-based movie making tools for novices—Trailers and Movies—along with excellent green-screen and soundtrack capabilities.
iMovie Supported Video File Formats: MP4, MOV, MPEG-2, AVCHD, DV, HDV, MPEG-4, H.264.
Best Tool to Help you Import iTunes Video Clips to iMovie
Right now, iMovie doesn't supports adding iTunes M4V Videos as all of iTunes video are locked down by Apple's Fairplay system, but that doesn't mean there is no way to import iTunes videos to iMovie for edit. If want to import iTunes Video, you'll need to use a third-party iTunes video converter firstly.
Finding a great iTunes M4V Converter can be hard - with so many choices, you don't know what works great and what works like a piece of junk. Thankfully, there is an awesome iTunes M4V to MP4 Converter called M4VGear Converter. That's right - with this tool, you can convert iTunes M4V videos, split a whole M4V video to videos clips and then convert to MP4 video files for importing to any video editing program, such as iMovie and Adobe Premiere Pro. We'll show you here how to import iTunes video clips to iMovie.
Tutorial: How to Easily Import iTunes Video Clips to iMovie?
Step 1: System Requirements:

A computer with Windows OS or Mac OS

The latest version of iTunes

The latest version of M4VGear iTunes M4V Converter
Step 2: Add iTunes M4V Video
 After launching M4VGear for Mac, you can either click "Add Files" button to select the videos from iTunes library or add the iTunes videos by dragging and dropping them into the program.
Note: M4VGear supports batch conversion, so that users could add as many files as they want.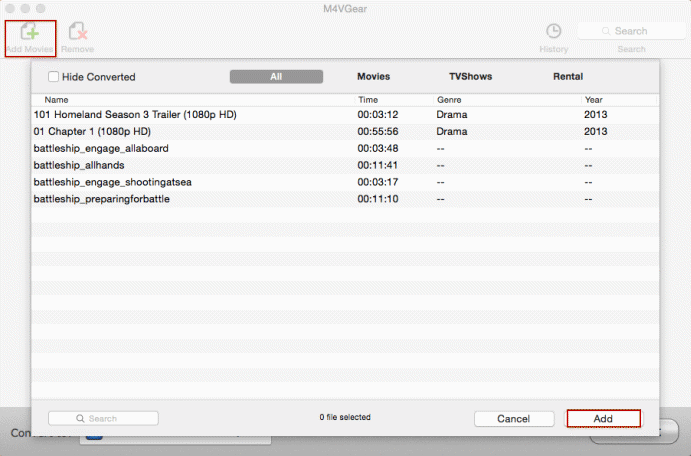 Step 3: Choose Output Format Supported by iMovie
The default output video format is "Same as source for MP4". You can change the output format after "Convert to" on the bottom left. Output format as "Same as source for MP4" and "Same as source for MOV" are highly recommended, which enables users convert at faster speed while keeping all subtitles and audio tracks (including Dolby 5.1 audio track).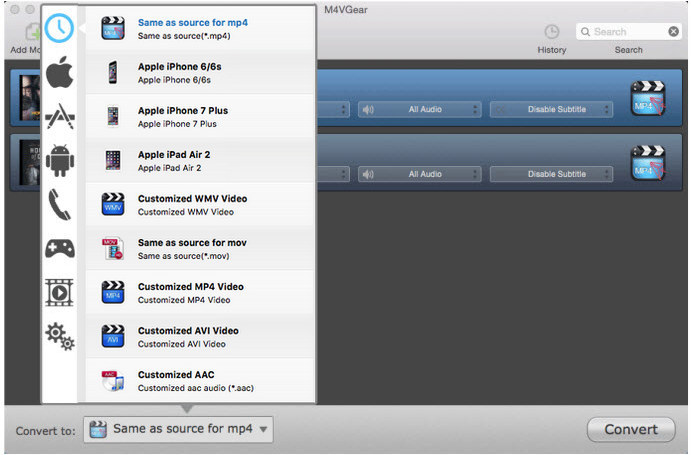 Step 4: Clip iTunes Videos
Then you can click "Custom" tab and input the Begin and the End time to clip the iTunes video.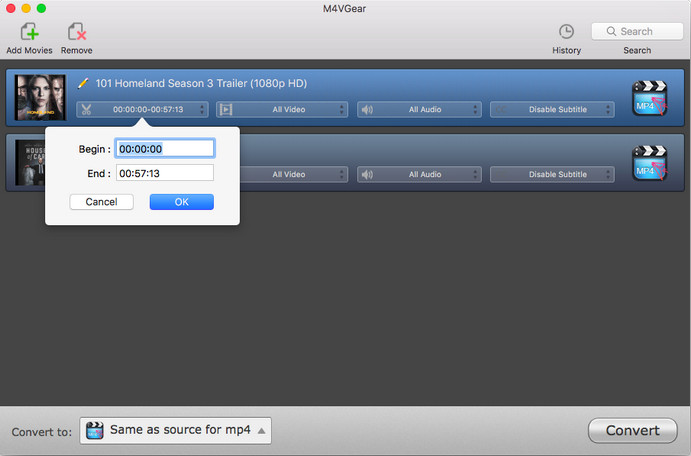 Step 4: Convert iTunes Video Clips to MP4
Ready? Just click "Convert" button to start converting iTunes Movies to MP4 format.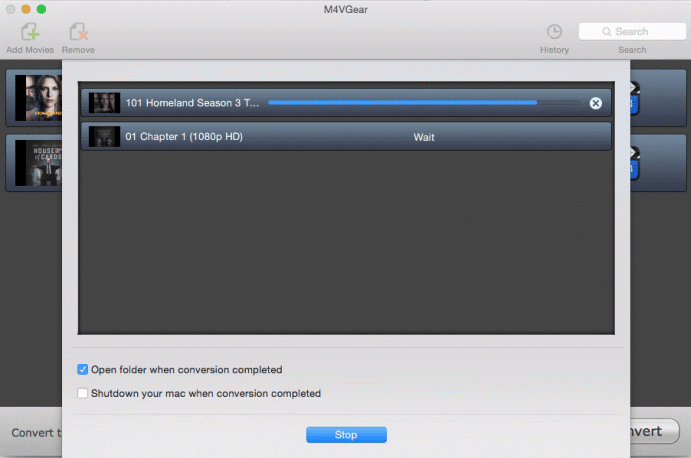 Step 5: Import Converted iTunes Videos to iMovie
After conversion, you can find the well-converted video clips by clicking the "History" button. Next, you can directly import the iTunes video clips to your iMovie for editing.
Video Tutorial on How to Convert M4V to MP4 on Mac:
Note: You may find the trial version of M4VGear only converts 1 minute of iTunes movie for free. Do not worry. It is the limitation in the trial version of M4VGear. If you want to convert the full movie with M4VGear, purchase the full version of M4VGear now at limited-time price $44.95 ($49.95).