How to Enjoy iTunes Movie Godzilla(2014) on TV ?
Plot Summary of Godzilla
People killed MUTO (Massive Unidentified Terrestrial Organism) which caused damages in Japan and Hawaii under the help of Godzilla, a prehistoric alpha predator. Godzilla was reported as "King of the Monsters - Savior of Our City" by media and finally went back to the sea.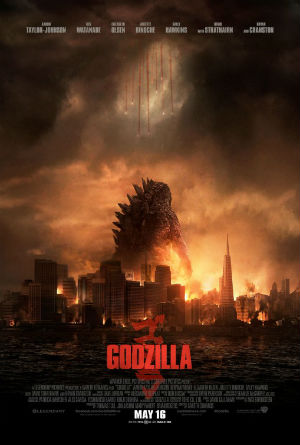 Comments on Godzilla from Top Critics
"It's a bracing tonic for the bored palate of the mainstream moviegoer, and one of the most intriguing big-budget breakthrough films since Steven Spielberg made "Jaws".
"We're here to see the film's leading lizard, who is pretty gorgeously realized by an army of digitizers, even if he seems just a bit-player in his own movie for the first hour or so. "
"The beasts just want to have fun, but the gravest letdown in Edward's film is that, most of the time, he fends off the chance to have fun himself."
"Edwards' expertise in the visual effects field manifests itself in the seamlessness of the computer-generated imagery, if not in its extraordinariness.
Godzilla in iTunes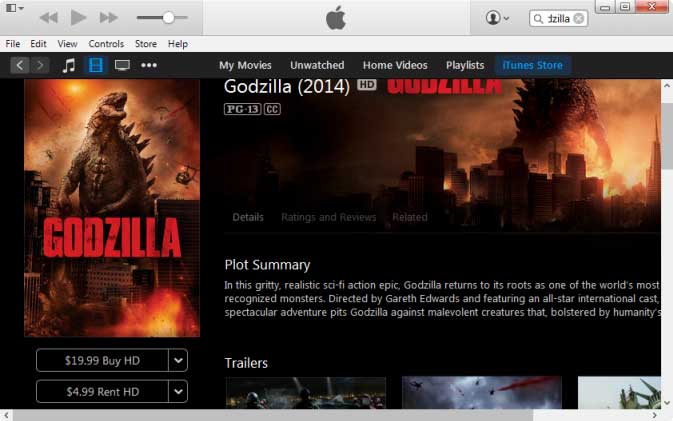 Price: $19.99 for purchased HD version; $4.99 for rented HD version. $14.99 for purchased SD version; $3.99 for rented SD version
Trailers(Free): Three trailers are provided in the product page of Godzilla for people to preview.
iTunes Extras: Available for this movie. It explores explosive new evidence not contained in the film that unravels massive cover-up to keep Godzilla's existence a secret from the public and more.
How to Enjoy Godzilla on TV
1) On Apple TV
Open Home Sharing by clicking File>Home Sharing>Turn On Home Sharing. Then input the same Apple ID with your Apple TV. Apple TV will automatically check your iTunes library to find the movie Godzilla.
2) On non-Apple TV such Samsung Smart TV, Philips TV, Panasonic TV, etc.
The way to play Godzilla on Samsung or Philips TV is very different from that of Apple TV. Because Apple ID cannot be used on these TVs and most importantly, iTunes movie Godzilla are protected by DRM which makes it incompatible with Samsung or Godzilla TV even though you copy and transfer them by USB. The only way to watch Godzilla on non-Apple TV is to remove DRM from it and convert it to unprotected formats like MP4.
M4VGear DRM Media Converter (Mac / Windows ) stands out as the leading DRM Removal Software for iTunes videos including movies, music videos and TV shows for long. It is famous for its amazing 20X faster speed to remove DRM from iTunes videos. See other unique features of M4VGear in the below:
Able to remove DRM from both iTunes purchases and rentals
The original quality is 100% kept.
All subtitle and audio tracks including 5.1 audio track are also saved.
Prompt update for the latest operating system of Mac and Windows and the latest version of iTunes.
How to Remove DRM from Godzilla with M4VGear ?
1. Download and install M4VGear according to your OS. Then launch it and iTunes will pop up automatically.
2. Import Godzilla from iTunes library to M4VGear by clicking the "Add Movies" button on the upper left or in the middle.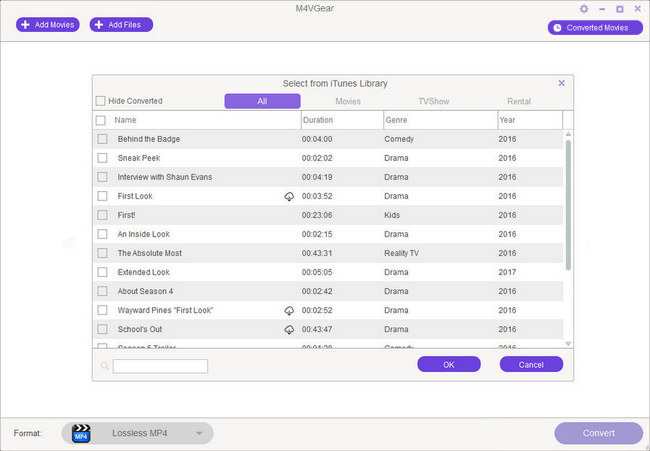 3. Once media files are added, you can set options for the whole conversion process including selecting output format from the button on the lower right corner. When you set output format as "Lossless MP4", the iTunes videos can be converted at 20 faster speed with AC3 Dolby 5.1 surround, closed captioning (CC) kept.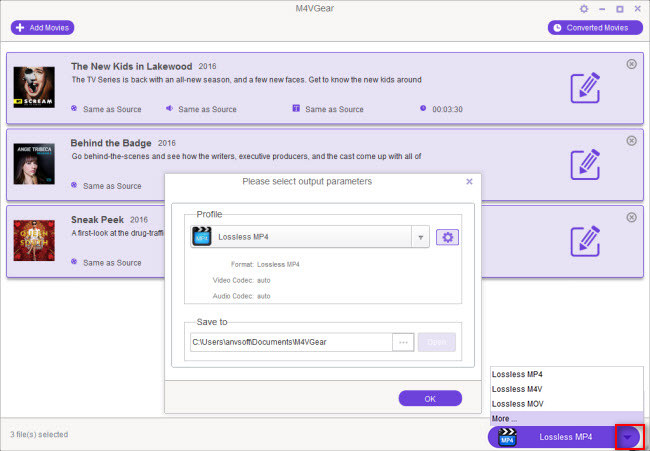 4. Click output format button to start converting on Windows or "Convert Now" button on Mac to start removing DRM from Godzilla.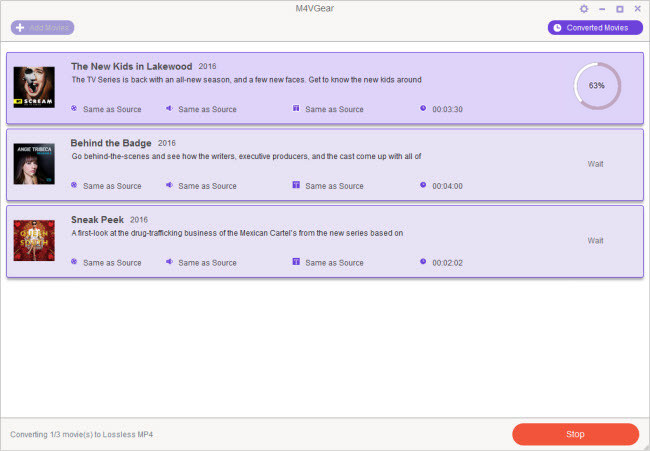 5. After conversion is finished(usually 20 minutes or so), find the movie and transfer them to Samsung, Philips or Panasonic TV for playback via USB.
Note: The trial version of M4VGear only converts five minutes of iTunes movie for free. If you want to convert the full movie with M4VGear, you need to purchase it. M4VGear now can be purchased at $44.95 from original $49.95.